Roll over image to zoom in
Description
This Forged yoke fits the BKOR Ultimate Carrier Bearing.  It does not use wimpy straps to hold the u-joint in.  It uses heavy duty u-bolts that can take serious abuse.  These yokes are built to take a beating and are offered in 1350, 1410, 1480, and rockwell pattern flat flange.  
1350 - NDT-3-4-13881
1410 - NDT-3-4-6561
1480 - NDT-3-4-6901
Rockwell flat flange - NDT-4-1-3441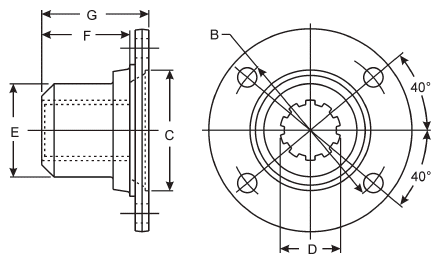 U-Joint Series  
 
1410/1480/1550  
Spline Major Diameter  
D  
1.500  
Spline Count  
 
10.000  
Spline Type  
 
Spline  
Pilot Bore Diameter  
C  
3.750-F  
Bolt Circle Diameter  
B  
4.750  
Bolt Circle Hole Diameter
(D = Drilled, T = Tapped)  
 
.500 D  
Number of Holes  
 
4.000  
Brake Pilot Diameter  
 
3.750  
Ground Hub Diameter  
E  
2.250  
Length Thru Bore  
F  
2.000  
Flange Face to End of Hub  
G  
2.500  
Bare Flange Part Number (if assembly)  
 
 
Slinger Part Number (if assembly)  
 
 
Notes  
Payment & Security
Your payment information is processed securely. We do not store credit card details nor have access to your credit card information.