Roll over image to zoom in
Description
We recommend flange yokes at the transfercase because the yoke sits inside the transfercase and a lot of times if a yoke fails it will split the transfercase.  A companion flange will not do that.  It is a stronger option than a yoke and provides a clean installation.
Companion Flange - Splined Bore
1410 series, Ø1.326x30 spline, Ø2.125 hub diameter
4 Drilled Holes on 4.750BC, Ø3.750-F pilot
We designed this 1410/1480 series companion flange to fit the 30 spline front output shaft common on GM NP203 and NP205 transfer cases in the 70s and 80s. These flanges use a larger hub diameter than the stock yokes and 3R CV flanges used originally, so a different seal will likely be needed. For cases with a 3.061' seal bore, use TIM-473468, NAT-473468, or CR-21211.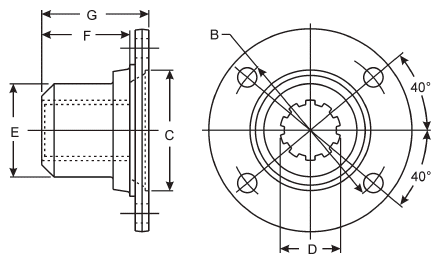 U-Joint Series  
 
1410/1480/1550  
Spline Major Diameter  
D  
1.326  
Spline Count  
 
30.000  
Spline Type  
 
Involute Spline  
Pilot Bore Diameter  
C  
3.750-F  
Bolt Circle Diameter  
B  
4.750  
Bolt Circle Hole Diameter 
(D = Drilled, T = Tapped)  
 
.506 D  
Number of Holes  
 
4.000  
Brake Pilot Diameter  
 
0.000  
Ground Hub Diameter  
E  
2.125  
Length Thru Bore  
F  
2.000  
Flange Face to End of Hub  
G  
2.500  
Bare Flange Part Number (if assembly)  
 
 
Slinger Part Number (if assembly)  
 
Can use ROK-DEFR34-1 (not included)  
Notes 
Payment & Security
Your payment information is processed securely. We do not store credit card details nor have access to your credit card information.