Roll over image to zoom in
Description
Companion Flange - Splined Bore
1410 series, Ø1.590x30 spline, Ø2.200 hub diameter
4 Drilled Holes on 4.750BC, Ø3.750-F pilot
This 1410/1480 series companion flange is designed for the GM Corporate 14, 14 bolt, 10.5' ring gear axle found in many 3/4 and 1 Ton Chevy and GM trucks from 1973 to today.
For 1998 and earlier applications, this flange can be used directly with the existing pinion seal.
For 1999+ applications, the pinion face seal AAM-26060977 must be purchased and installed on the hub to match the pinion seal diameter in those axles.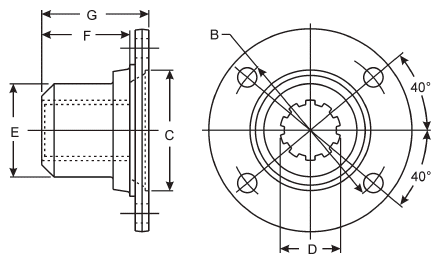 U-Joint Series  
 
1410/1480/1550  
Spline Major Diameter  
D  
1.590  
Spline Count  
 
30.000  
Spline Type  
 
Involute Spline  
Pilot Bore Diameter  
C  
3.750-F  
Bolt Circle Diameter  
B  
4.750  
Bolt Circle Hole Diameter 
(D = Drilled, T = Tapped)  
 
.506 D  
Number of Holes  
 
4.000  
Brake Pilot Diameter  
 
0.000  
Ground Hub Diameter  
E  
2.200  
Length Thru Bore  
F  
1.630  
Flange Face to End of Hub  
G  
2.500  
Payment & Security
Your payment information is processed securely. We do not store credit card details nor have access to your credit card information.