Roll over image to zoom in
Description
We recommend flange yokes at the transfercase because the yoke sits inside the transfercase and a lot of times if a yoke fails it will split the transfercase.  A companion flange will not do that.  It is a stronger option than a yoke and provides a clean installation.
Companion Flange - Splined Bore
1410 series, Ø1.401x32 spline, Ø2.125 hub diameter
4 Drilled Holes on 4.750BC, Ø3.750-F pilot
This 1410 / 1480 series companion flange is designed to fit the 32 spline front and rear output shafts of New Process 205, 203, and Atlas transfer cases. The flange has the required chamfer at the base of the hub to clear the bearing cage on Atlas transfer cases.
This flange is most commonly used to mount a Rockwell 2-1/2 Ton Deuce and a Half type driveshaft to NP205 and Atlas transfer cases.
To use this flange on the front output of GM NP205s with 10 or 30 spline outputs, you must swap out the front output shaft to a 32 spline shaft (p/n LDT-99653)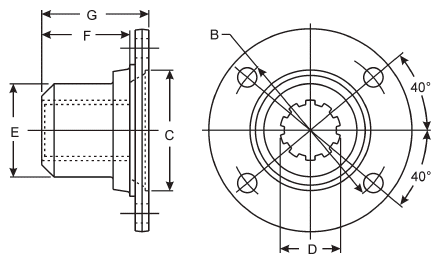 U-Joint Series  
 
1410/1480/1550  
Spline Major Diameter  
D  
1.401  
Spline Count  
 
32.000  
Spline Type  
 
Involute Spline  
Pilot Bore Diameter  
C  
3.750-F  
Bolt Circle Diameter  
B  
4.750  
Bolt Circle Hole Diameter
(D = Drilled, T = Tapped)  
 
.506 D  
Number of Holes  
 
4.000  
Brake Pilot Diameter  
 
0.000  
Ground Hub Diameter  
E  
2.125  
Length Thru Bore  
F  
2.000  
Flange Face to End of Hub  
G  
2.500  
Bare Flange Part Number (if assembly)  
 
 
Slinger Part Number (if assembly)  
 
Can use ROK-DEFR34-1 (not included)  
Notes  
 
Hub is chamfered to fit Atlas transfer case applications  
Payment & Security
Your payment information is processed securely. We do not store credit card details nor have access to your credit card information.